About the Founder: Ms. Apeksha Fozdar
-Awarded among the TOP 10 WOMEN ENTREPRENEURS IN DIGITAL MARKETING – 2020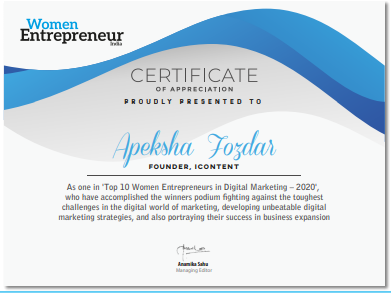 She is a highly motivated, dedicated, and goal-oriented individual. She holds a dual degree i.e. Master's in Management as well as in Advance Digital Marketing and has a rich experience of more than ten years as a seasoned content writer.
She has worked with esteemed companies like Citibank, Crisil Research, Tata Group of companies, and Smmart Training and Development for a substantial period of time.
She is an avid reader, a gifted writer, and is quite passionate about the craft.
She specializes in designing strategies for digital marketing as per context by understanding the behaviour of the target customers and competitors.
She is proficient in creating SEO based content taking into consideration the latest Google algorithms.
Kindly drop a message to get in touch with her to discuss your content marketing strategy…..